Consulting services - Team development
At Irrelach you get the expertise and professionalism we've gained from working with a vast number of teams from multinational and blue-chip companies in a variety of industries including pharmaceutical, FMCG's and high-tech and telecommunications.
Our strategies aim to enhance and build both your individual and organisational capability while focusing on changes that will really make a difference in your business. We also focus on the sustainability of individual performance and growth within your organisation.
Our extensive experience in facilitating, building, managing and supporting teams includes:
Product category teams.
Asia-Pacific product category teams.
Global product category teams.
Project teams.
Product innovation teams.
Rapid action teams.
Operational teams.
Leadership teams.
Executive teams
We also have experience in developing teams of different sizes, capabilities and in differing geographical locations.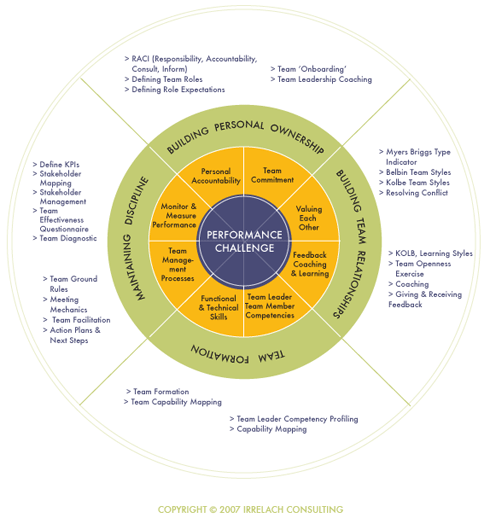 TEAM DEVELOPMENT
Scenario
To increase the ability of product category teams to manage their categories as integrated cost centres.
Teams
Work within a fast-moving consumer goods business
Are manufacturers and marketers of #1 and #2 household brands
Are part of a global business with significant Asia-Pacific exposure
Objectives
To increase the business focus of category teams
To improve team effectiveness
To build solid cross-functional business teams
Challenges
A lack of effective team work
Formation of new teams Inconsistent approaches to team delivery
Significant pressure to successfully manage and grow their categories
Solution
We created an organisationally agreed approach to business teams.
We mapped the existing team's effectiveness.
We designed and facilitated a one day team on-boarding.
We conducted a team operation follow-up three months later.