Outsourced HR services - Overview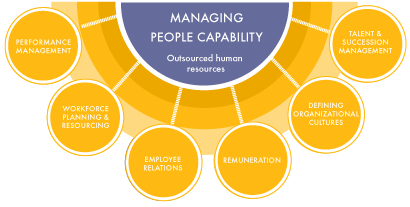 Modern, fast-growing companies know the value of people and can visualize the alignment of their staff performing well to the profit of the company. These companies are always looking at new ways of accessing superior human resource support without taking on the cost that comes with it. Irrelach's outsourced human resource solution can deliver this and make a significant difference to your bottom line. Outsourcing to us allows your people to focus on the business while our expertise manages your people's capability.
Our adaptable approach means that we have the ability to provide your organisation with a range of outsourced human resources options, either full or partial, dependant on your needs.
Strong human resources practices have the potential to increase your company's productivity and profitability, but human resource management has become a colossal task, demanding considerable time and money. Legal and regulatory compliance (WorkChoices) has become an overwhelming task demanding time spent on administrative obligations rather than growing your business.
Business benefits of outsourcing your human resources
Reduces and controls human resource operating costs by only paying for what you want and need.
Offloads activities that are not directly contributing to the bottom line of your company's competitiveness.
Frees-up staff from administrative and transactional duties to focus on the business issues.
Gains you access to higher quality human resource services without the overheads.
Gains you access to skills and expertise not available in-house.
Gains you access to technologies not available in-house.
Manages the risk with the legal minefields 8. Explains what WorkChoices really means and what the impact is on your business.