Outsourced HR services - Employee relations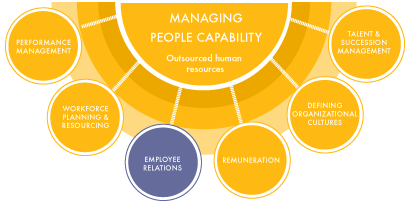 While there has been a lot of talk about the new WorkChoices legislation how prepared are you to implement these changes? What impact will they have on your business?
At Irrelach we're up-to-date with all the latest legislation and laws that impact business so that we're able to assist you with the necessary methodology and processes you need to be compliant.
We have the expertise to work with your senior management team in negotiating AWA conditions and follow through with implementation.
Business benefits of employee relations
Saves your company time and money by taking the burden out of evaluating and interpreting any new laws.
Designs better working conditions that benefit your business' needs.
Negotiates greater benefits to attract and retain staff and offer life balance opportunities.
Identifies and manages the potential risk areas of managing people.
Gives you more control over your work situation.
Offers operating hours to suit client demand without paying penalties.