Outsourced HR services - Remuneration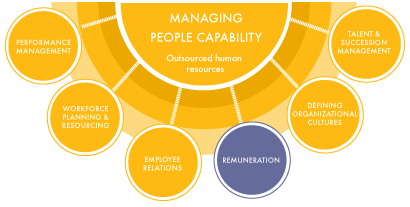 The demand for talent also means that the cost of labor will increase so it's important to have a plan in place that encourages your employees to stay while attracting new talent.
A critical link that most organisations fail to recognise and implement is the relationship between Pay and Performance. We believe that an organisation's remuneration strategy needs to be clearly linked to the outcomes the organisation is trying to achieve.
We'll work with you to ensure you achieve this, while still retaining the competitive advantage.
Business benefits of remuneration management
Ensures that dollars invested in paying employees are being used most effectively and your organisation's risks are minimised.
Gains a competitive edge in attracting quality employees by offering best practice remuneration approaches.
Maximises your organisation's cost-effectiveness in relation to salaries.
Ensures proper cost-control based on total employment costs.
Ensures a culture of rewarding individual performance that ultimately benefits your organisation.