Outsourced HR services - Talent and succession management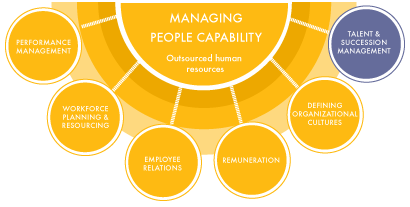 With the continually changing economic climate and increasing demand for skilled workers in the labor market, a war for talent is occurring all around the world. Now more than ever it's critical you find ways to attract and retain key performers.
We take the guesswork out of assumptions by helping your organisation identify its critical employees. We'll also map and design career programs and strategies to manage and nurture the talent in your organisation and manage the risk should your top performers chose to leave.
Business benefits of talent and succession management:
Provides a number of competitive advantages including improved customer and client relationships.
Helps collaboration and co-operation through the organisation.
Promotes good culture and retention which equates in increased company profit.
Reduces recruitment costs.
Removes risk if top performers leave.
Provides reports on trends and risk areas, particularly if a new team needs to be developed and staff can't be sourced.
Provides staff motivation and job satisfaction.